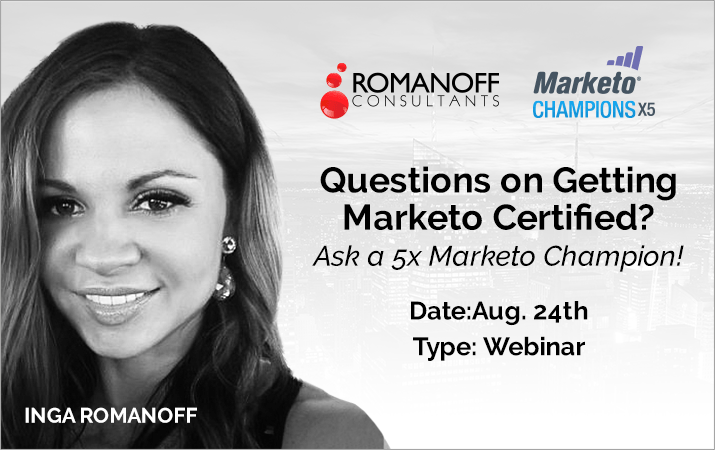 Aug 24 2017

How to Get Marketo Certified

2

MIN READ
Date: AUGUST 24
Location: Virtual
Marketo Certifications provide you an opportunity to demonstrate your expertise on our Marketo product as well as, advance your skills and career.
Join Inga Romanoff in her on-demand session, 'How to Get Marketo Certified'. In the webinar, Inga and Ayana Nickerson discuss preparation strategies for the exam, as well as why becoming certified is important for your personal brand. Learn how to leverage your skills as a Marketo user and digital marketer!
Key Topics
Topics covered:
Inga's perspective on the immeasurable value being a Marketo Certified Expert has brought to her career
Strategies and tips for becoming a Marketo Certified Expert
How to build your professional brand with Marketo Certifications, and how to leverage this in your career
Inga's success path to earning her 5x Marketo Champion title
---
Speaker Details
Inga Romanoff is an award-winning Marketing Automation consultant, a 5x Marketo Champion, and holds MCSA, MCC, MCE, and Marketo Revenue Cycle Analyst certifications from Marketo. Inga has focused her efforts on creating a Marketing Automation consultancy, which implements Marketing Automation platforms and builds solutions for small and large companies. Inga sets her consultancy apart with her personal excellence in the marketing industry, as well as retaining employees of the highest caliber.
---
Ayana Nickerson has been at the forefront of education and certification programs for over 20 years. A Senior Executive with extensive experience in Fortune 500 Companies and Not-For-Profit Associations. Providing a broad range of expertise in strategy, operations, organization and change, and program management, Ayana is committed to delivering results that endure.
---
Sponsor
Marketo's powerful marketing automation software helps marketers master the art & science of digital marketing to engage customers and prospects.
Marketo Inc. makes marketing automation software for companies. In 2012, Marketo was ranked 78th on the Inc. 500, #7 among software companies, and #1 among marketing software companies.
Link to site www.marketo.com